Thanks for another great F2C: Freedom to Connect! [Tags: #f2c #f2c13]
[Last changes 19Mar13] . . .
F2C: Freedom to Connect 2013 convened on March 4 & 5, 2013 at AFI Silver Theatre in Silver Spring MD.
Archives and artifacts of F2C 2013
The Big Idea: F2C: Freedom to Connect 2013
F2C: Freedom to Connect brings under-represented people and issues into the Washington, DC based federal policy discussion to promote Internet freedom, to preserve Internet values such as public protocols and universal connectivity, and to promote the use of the Internet for people-oriented purposes.
Here's the agenda. See speaker bios for additional details.
Highlights included keynotes by Vint Cerf, Glenn Greenwald, Darcy Burner, and Peter Cochrane, a panel on big money and state law with Ed Bender and Catharine Rice, a discussion with Derek Khanna (who was fired from the U.S. House for his overly-clueful, promptly suppressed GOP copyright memo), a report from Lafayette, Louisiana on its now complete municipal FTTH network, and the live broadcast of Democracy Now's daily news hour from 8 to 9 AM on Monday and Tuesday.
F2C: Freedom to Connect 2013 revolves around three central topics.
The first is an open infrastructure owned or controlled by and responsive to the community it serves and whose resources it depends upon. This was addressed by Jim Baller (Baller Herbst Law Group), Terry Huval (Director of Lafayette Utilities System), Pat Kennedy (founder, Lit San Leandro), Chris Mitchell (MuniNetworks.Org), James Salter (Atlantic Engineering Group), Catharine Rice (President, SEATOA), Greg Richardson (Civitium), Scot Rourke (CEO of One Community), and others.
The second is a publicly specified set of Internet protocols open to all who meet its specifications.This was address by Vint Cerf (Internet Evangelist, Google), Peter Cochrane (former Chief Scientist, BT), Dan Gillmor (Founding Director of the Knight Center for Digital Media Entrepreneurship at Arizona State University), Jeff Jarvis (Tow-Knight Center for Entrepreneurial Journalism at CUNY), and others.
The third is the use of the Internet to promote government of, by and for the people, and to counteract autocratic government power. This topic was addressed by Ed Bender (Executive Director, National Institute on Money and State Politics), Darcy Burner (Candidate for US House of Representatives, 2006, 2008, 2012), Ben Huh (founder, Cheezburger.com), Alexis Ohanian (co-founder, Reddit & instigator of the Internet 2012 Bus Tour) and Trevor Timm (EFF & co-founder Freedom of the Press Foundation).
Many of the speakers addressed two, or all three of these profoundly interrelated topics. Artist Gwenn Seemel (featured in BoingBoing here and here) defies all three.
RIP Aaron Swartz 1986-2013
Original thinker, advocate for justice and humane values, data architect, programmer, friend.
Aaron, who gave the speech of his life at F2C last year, was taken from us on Friday, January 11, 2013. Cory Doctorow's heart felt obituary is here. Our memorial to him is here. This year's F2C: Freedom to Connect is dedicated to the work Aaron still had left to do.
In previous years at F2C: Freedom to Connect . . .
Here are a few moments from the 2012 version of F2C: Freedom to Connect:
Videos of all the sessions of last year's F2C: Freedom to Connect are available here.
The talk by Professor Eben Moglen of Columbia Law School is especially recommended.
Prior Years:
F2C: Freedom to Connect 2012 featured keynotes by Aaron Swartz, Eben Moglen, Susan Crawford, Vint Cerf, Lawrence Lessig, and others. Videos of the entire proceeding are available here.
[F2C was on hiatus in 2010 and 2011.]
The theme of F2C: Freedom to Connect 2009 was "The Emerging Internet Economy." All eyes are on the economy. The Obama Administration has declared the Internet a keystone. Columnist Tom Friedman was our keynote speaker.
The theme of F2C: Freedom to Connect 2008 was "The Netheads Come to Washington." Open fiber projects in Amsterdam, Tokyo, Louisiana and Vermont were presented. Netroots US Representative Donna Edwards and security expert Bruce Schneier spoke. In addition, F2C devoted half a day to "Making the Internet Carbon-Negative."
The theme of F2C: Freedom to Connect 2007 was "The Wealth of Networks" featuring Yochai Benkler. Vermont Governor Jim Douglas announced Vermont's e-state initiative, and FCC Commissioner Adelstein spoke and played the harmonica.
The theme of F2C: Freedom to Connect 2006 was "The Network Neutrality Battle." James Q. Crowe was the keynote speaker, FCC Commissioner Copps made an appearance, and Representative Rick Boucher gave a frank insider's view of the politics of the unsuccessful telecom bill of 2006.
The theme of F2C: Freedom to Connect 2005 was "The Future of Communications." Vint Cerf was the keynote speaker.
Musicians in Residence
As a communications technology, music predates the Internet by some 50,000 years. It is an integral part of F2C: Freedom to Connect.
Musicians in Residence for F2C 2013: Frank Vignola and Vinny Raniolo.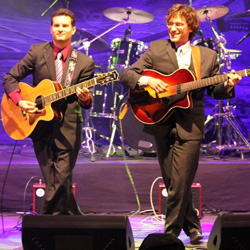 Frank Vignola's musical mastery has led him to play with such musicians as Ringo Starr, Madonna, Donald Fagen, Wynton Marsalis, Tommy Emmanuel, Mark O Connor, David Grisman, the Boston Pops, the New York Pops, and guitar legend Les Paul, who named Vignola to his "Five Most Admired Guitarists List" for the Wall Street Journal.
Vinny Raniolo has performed at some of the top venues with such musicians as Bucky Pizzarelli, Tommy Emmanuel, Tony Trishka, Matt Flinner, and David Grisman.
Past F2C Musicians in Residence include:
Acknowledgements
F2C: Freedom to Connect would not happen without many people who give freely of their time and expertise. Thanks especially to Dewayne Hendricks for the F2C Wi-Fi Network, to Judi Clark for networked applications such as the chat, to the ISOC-enabled video team (Paul Brigner, Joly McFie, Paul Hyland and others), to Gene Gaines and the other volunteers at the front desk, to Jenny Mitchell for Web work, to Benoît Felten for the photography that led to this page's banner, to John Summers, Eileen Keegan and Tiffany Graham-Golden and the rest of the team at AFI Silver and to our generous sponsors.